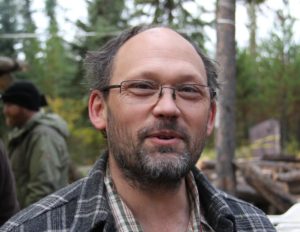 James was born and raised in Saskatoon, Saskatchewan. In his teenage years, he discovered a love for the outdoors and, specifically, primitive skills. This passion led him to the Boulder Outdoor Survival School and to studying with the MacPhersons in Kansas, meeting and working with fantastic teachers and travelling throughout the US sharing and gathering knowledge from many, many sources.
In 1991, he moved to BC where he met his wife and began a new life path. After some moving about, they settled on a little farm outside Prince George. The next 20 years were spent building a home, off grid and self contained, growing and gathering food, honing skills and raising 4 beautiful children, passing this love of the outdoors along to each of them. The primitive skills took a backseat while he focussed his energy on building a house, running a woodworking business, making many tools and general adult duties but the desire to learn never went away. As soon as the opportunity arose to attend Karamat, he took it and thoroughly enjoyed reimmersing himself in that life.
That was nearly two years ago. Today, he is a craftsman, designing and making the Canadian Forest Knife and operating Andaltool. He takes enormous pleasure in learning and sharing with the students at Karamat Wilderness Ways.