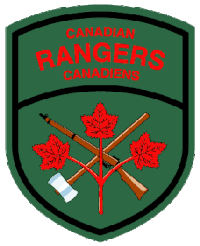 The Canadian Rangers are a unique component of the Canadian Army that consists of part-time uniformed members who maintain a military presence in Canada's sparsely populated, coastal, and isolated areas of Canada that cannot be conveniently or economically covered by other elements of the Canadian Armed Forces. There are five Canadian Ranger Patrol Groups throughout Canada, each containing between 400 and 1,800 Canadian Rangers. With its headquarters in Victoria, British Columbia, the 4th Canadian Ranger Patrol Group (4 CRPG) has around 1,000 Canadian Rangers in 43 patrols, each around 30-members strong, in small communities across Canada's four western provinces.
The Canadian Rangers of 4 CRPG work closely with conventional Canadian Army (CA) units by providing guides and predator watch patrols in remote areas, conducting liaison between CA units and community leadership, offering specific local knowledge of the terrain, and conducting specialized training such as wilderness survival and mobility.
4 CRPG also helps the RCMP, local enforcement, and other agencies by:
Patrolling the West Coast and inland waters of western Canada;

Watching for illegal immigrants in Canada's waters;

Conducting search and rescue (SAR) operations;

Responding to domestic operations, such as wildfires, floods, or tsunami threats, and

Assisting in community evacuations.
Canadian Ranger familiarization, Canadian Ranger equipment (including displays), skills demonstrations, information regarding how to become a Canadian Ranger, and more. Informational displays and literature, giveaways, and public interaction with uniformed Canadian Rangers from across western Canada will also be offered.
This camp is proudly sponsored by 4th Canadian Ranger Patrol Group and we are proud to have their presence at the Global Bushcraft Symposium.