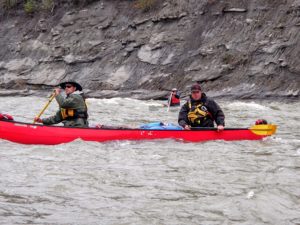 Scott grew up in a true wilderness setting on the family homestead, miles from the nearest neighbor, along the banks of the Athabasca River.  Hunting, fishing, farming, quadding, and snow snowmobiling were common activities and exploration of the great forest surrounding the family farm was a regular occurrence.  As an adult, Scott became a junior partner of one trap line, and a half partner of a second trap line.  To become proficient at trapping, Scott had to study forest ecology, animal behavior, animal tracking, and seasonal movements of fur-bearing animals in the boreal forest.  Trapping demands great skill in bushcraft and survival to be effective and safe while working in remote areas in bitter cold and inclement weather.  Scott also became very familiar with the Athabasca River and all its' moods while travelling many miles of the river in canoe or riverboat.
In the last five years, Scott's expertise expanded into the area of flat water and white water canoeing and he has worked hard to become certified as a lake and moving water instructor with Paddle Canada.  Scott is the training officer for the Klondike Trail Search and Rescue Group.
Scott is well known for his great sense of humor and strong work ethic, and he is quick to jump in and help with any project or craft (but not cooking –  ha ha).  Scott is an easy going "Red Neck' and is always willing to share a good story, teach a skill, or chat about the latest outdoor gear and tools.
Scott is a regular contributor to the Nature Alive Team of talented instructors and guides.