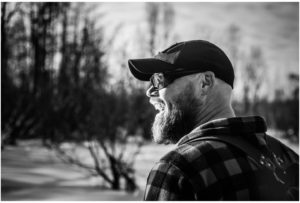 Brian is a Bushcraft Instructor, and retired veteran of the Canadian Armed Forces, with 25 years of service. He grew up surrounded by the Canadian Shield, and the hardwood forests of Southeastern Ontario, where the seed was planted for his love of the Great Outdoors.
While growing up, his family was active in the outdoors in fishing and hunting. This is where he took his first survival training at 12, to learn how to hunt safely. While growing up he spent time in the bush with his family, learning everything from shelters to fires. His years in the Infantry allowed him to travel widely and train in a diverse range of ecosystems around the world, from the Mojave Desert, to the High Arctic.
His instructional career began with the infantry, while in Reconnaissance Platoon in the late 1990's.  Later, while posted to the Royal Canadian Navy on Vancouver Island, he spent time in our temperate coastal rainforests and learned about "bushcraft".   In preparation for his retirement, he began to seek out people that could teach him formal lessons on Bushcraft and found Karamat Wilderness Ways, and became immersed in their mix of Bushcraft and Modern Wilderness Survival.   He was lucky enough to find great mentors to show him the ways of the boreal forest, and to meet, and teach for the Master Woodsman himself, Mors Kochanski.
In 2014, following an invitation to provide programming at the Fort Saskatchewan Museum, he opened his own school Three Ravens Bushcraft.   While survival is better known, he prefers Bushcraft, because Survival is well….. Surviving.  His motto "teaching you how to live in the woods, not just survive" is really what he's about.   He focuses his training on showing all the useful "tools" of the forest and how you can use them once you learn to see them.