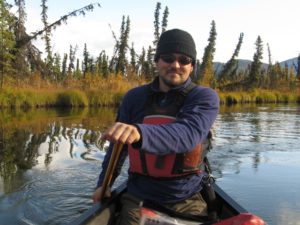 Fabian Schmitz holds a German Master's Degree in Geography and Environmental Sciences…but happened to be a lot more interested in "woods bumming" rather than a career in science.
In 2007 he arrived on Canadian soil and hasn't looked back! He now lives with his partner Claudia near Fox Lake, about 60 km north of Whitehorse, Yukon in a beautifully forested area at the foot hills of the Coastal Range. They share their place with 30+ sled dogs, some chickens and a handful of rabbits.
Since childhood he has an interest in anything bushcraft and survival. Many trips around the world allowed him to learn bush skills in a variety of environments. Over the years he learned bush skills from a variety of instructors (such as Mors Kochanski, Kelly Harlton, Rainer Besser and Argus Eymann) , trappers, hunters, First Nation elders, mountaineers and other bushcraft and survival enthusiasts.
Since 2009 he works as a full-time guide and wilderness instructor in the Yukon and enjoys taking people out into the woods and teaching ways to live and thrive in the Backcountry. He has an extensive record of long wilderness backpacking trips and is also well versed with the canoe and dog sled. As a dog musher he has participated in several mid-distance races such as the Yukon Quest 300, Copper Basin 300, GinGin 200, and Percy DeWolfe 200.
Fabian achieved certification as a Canoe Instructor with Paddle Canada in 2017, is a volunteer with Yukon Search & Rescue and is trained and certified in Wilderness First Aid. He has over 15 years of experience in wilderness guiding and teaching outdoor skills and is Yukon's leading instructor when it comes to bushcraft and wilderness survival.