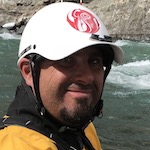 Since 1982, the technical rescue training we provide is developed and certified by Rescue 3 International – the global leader in technical rescue training. We are the Official Agent for Rescue 3 in Canada. Through our affiliation with Rescue 3, we are able to provide certifications that are NFPA compliant – the standard-of-care in Canada and around the world.
The medical training we provide is developed by Raven Medical, a team of industry leading medical instructors with backgrounds in technical rescue, outdoor recreation activities, and medical expertise. With the varied backgrounds our team brings to the table, we're able to relate our cutting-edge medical training to your specific needs.
Travis Finlayson
Travis has been professionally teaching and guiding a wide variety of outdoor skills for over 10 years. He has led a number of river expeditions across Northern Canada, he is a certified paddling instructor, avalanche safety instructor, ski/snowboard instructor and instructor for the Canadian Safety Council. He is a Raven Medical instructor, and an instructor trainer for Raven Rescue's swiftwater, jetboat, and ice programs.  Travis is a dynamic and experienced instructor and we are proud to have him as part of our team.